Upcoming Events 2021

JULY 2021
Sign up here!
RADIO BINDU's WELLNESS COLLECTIVE
our last session before Summer Holiday!

"DANCING BACK TO LIFE" with Ganesh Amgain
Wednesday, July 07th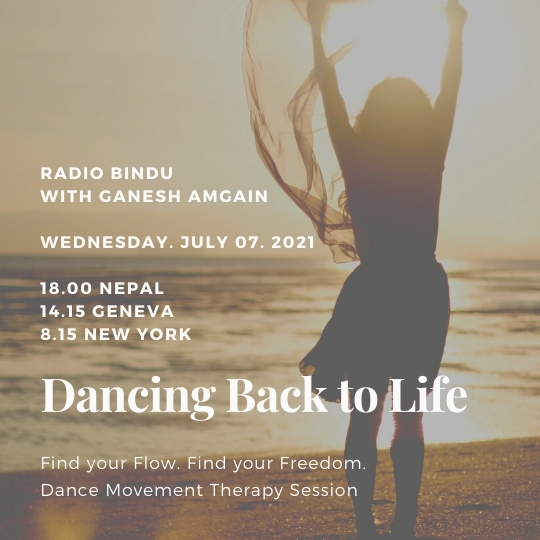 Movement is Life.
Dance happens when the body, mind & spirit move together.

Join my Nepali colleague, gifted therapist & performing artist, Ganesh Amgain, to experience the benefits of Dance Movement Therapy:

find your freedom of movement (no matter your physical agility)
rejuvenate mind & body
tap into your beauty & resilience
process & release accumulated or undigested experiences in a safe & self-paced manner


Why Dance?

After more than a year of a pandemic, with varying degrees of lockdown & life on hold, the time is ripe to MOVE.
Often times words are not enough.
They do not do justice to what we feel nor what we've experienced.

Movement & dance are a universal language that we ALL speak. They speak of our deep inner knowing & our landscapes of experience. In this session we'll be skilfully guided by Ganesh to listen and learn this other language in a supported space.

Join us to find your flow & your freedom.
Everyone can Dance
All are Welcome


To REGISTER & receive the ZOOM LINK, click here.

Wednesday July 07th
18.00 Nepal
14.15 Geneva
8.15 New York




---

JUNE 2021
Sign up here!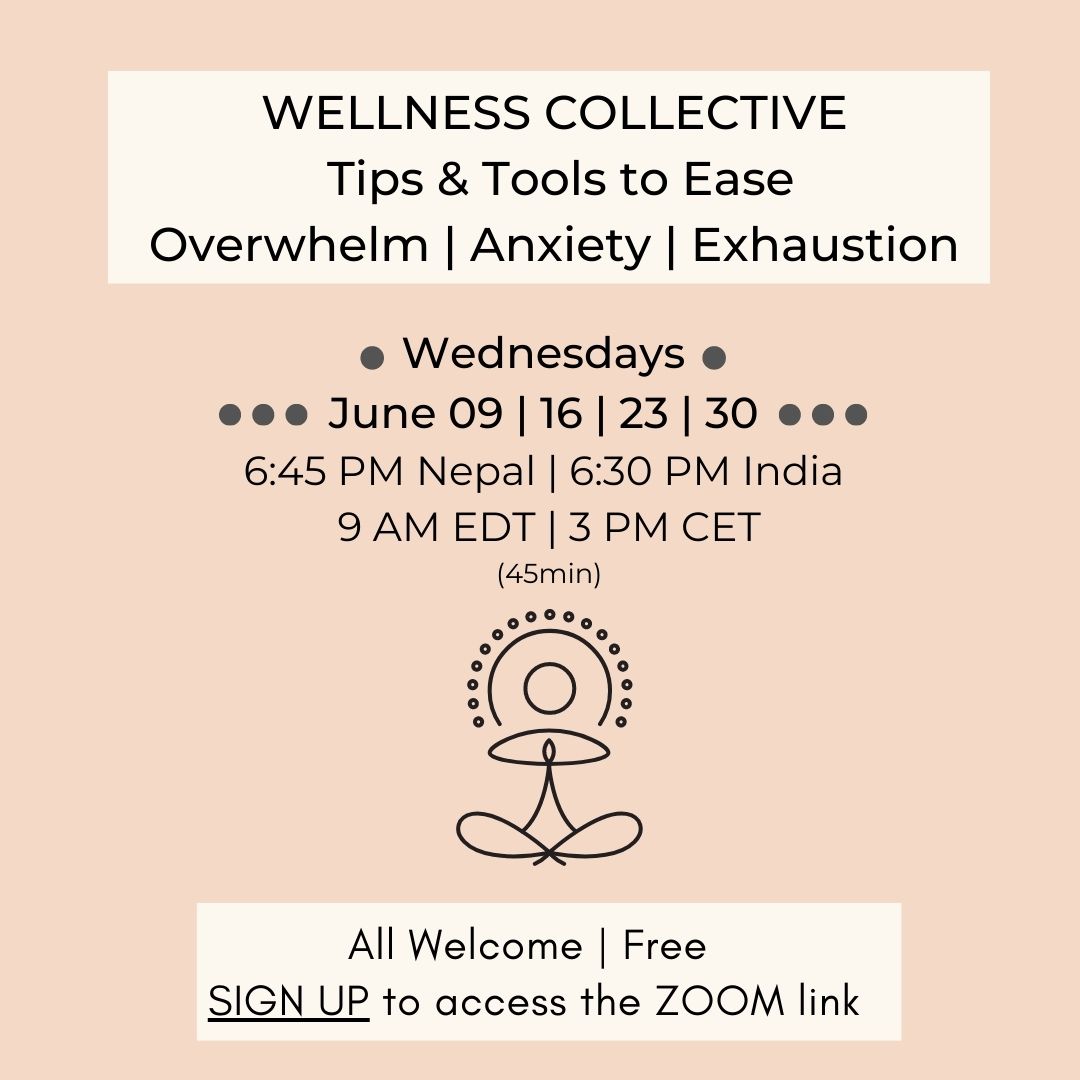 June 09: Vagal Nurturing
We're reviewing & adding on to our tool box of "vagal nurturing" techniques to manage overwhelm, shock, anxiety & grief. Learn how to shift your nervous system from its stress response to its rest response.
June 16th: All About Yoga.
Learn simple breath work and other Yogic techniques to find steadiness & protection.
June 23rd: Covid 19 Recovery: Healthy Breathing during & after infection, with Betsy Arntzen
Betsy Arntzen, a licensed massage therapist based in the US, shares tips on how to maximise proper breathing and support recovery after respiratory illness. She'll be teaching us postures, positions, movement & simple massage techniques you can use at home that will release fascia & help the whole body breathe again!

June 30th: Boosting our Mental & Physical Immunity
Get a glimpse into the simple science behind mind-body connection, and understand not only how powerful you are, but how you can shift your thinking and your body on a daily basis to support health & wellbeing on all levels.

To REGISTER & receive the ZOOM LINK, click here.



In these 45 minute workshops you will :
learn how to ease anxiety & overwhelm by using 4 simple somatic (body based) tools (June 09)
learn yogic tools of breath, body & visualisation to bring about calm, vitality & protection (June 16)
learn simple postures & massage techniques to optimise healthy breathing (June 23)
feel more at ease in your own body & calm in your heart/mind
better understand what's happening to your body, brain, mind & heart during these pandemic times
feel confident in helping yourself & your loved ones (children included) to deal with the effects of high/chronic stress
DISCLAIMER: the content of these workshops does not replace medical care or advise. If you have doubts about using the tools, please consult your attending physician.

This workshop is for you if you:
are feeling exhausted, grief stricken, overwhelmed, frustrated or have a loved one who is anxious.
are having a hard time sleeping, focusing or thinking straight
are an adult, teenager, educator, therapist, frontline worker, social worker, parent...i.e. a human being!
are recovering from Covid 19 or know someone who is
have questions & are eager to learn ways to help yourself
age: 15 +
are comfortable with English (instruction is in English)
In attending you agree to use respectful language & to behave in a supportive, tolerant & respectful manner.

What this workshop is NOT:
group or individual therapy session
a certification workshop

What do you need to attend?
a computer/phone/tablet + zoom connection
a relatively quiet space for 45 min
some awareness
your body & your breath
you, as you are

Your guide....
For those of you who don't know me, my name is YogaTara. I'm a spiritual psychologist, yoga practitioner, yoga therapist, and SEP (Somatic Experiencing Practitioner). To find out more, click here.

REGISTER & receive the ZOOM LINK, click here.
Think someone else could benefit from this? Click on the link and share.

Need a drop of inspiration?
Get insights & inspiration and updates on classes, workshop & retreats worldwide.

Sign up for the Isha Newsletter

Follow on Instagram